Thanks Again For 6 Wonderful Days!
By Lisa Westgaard (Food-photographer) & Tone Dahl (Chef), Oslo Norway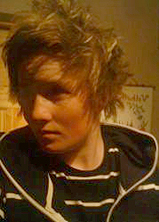 Our experiences with Maria and her Traditional Mexican Cooking School have been exceptional.
We took 6 days of hands on cooking classes in January 2011 focusing mainly on the core of Mexican cooking: salsas, adobos, pipianes and mole and on working with cactus and corn.
Since we both are culinary professionals (Food-photographer and head Chef of a Scandinavian/Mediterranean restaurant), it was important for us to find someone who would teach us authentic Mexican cuisine and who was willing to customize the classes to meet our individual level of experience.
Well, we made the perfect choice!
Words cannot express how much we enjoyed the classes or how much we learned, but we will give it a try:
First of all, you are wonderful, warm, and truly a professional who loves what you do!
Your teaching style is relaxed and entertaining. We felt as if we were in our friend's kitchen and that we had known you for years.
The classes were totally hands on, and we particularly liked that you encouraged us to use all our senses; smelling, touching and tasting the food every step of the way. This gave us an in depth understanding of the recipes and showed us how we could vary them to suit our own personal tastes.
The classes were fun, educational, informative and the food we made from your family recipes was delicious! This is the real thing! Authentic, regional rustic cooking which engages both the taste buds and the soul. It takes us to a place that is far from fast food and brings us closer to the earth.
 We would also like to point out that cooking experience was by no means needed for these classes.
Our friend, Barbara, who joined us for one of the days, was nervous since she doesn't have much cooking experience. But you made her feel comfortable in the kitchen and eager to try out her new skills at home! We believe that your encouraging manner puts people at ease, gives them confidence in their abilities and makes everyone want to participate.
Our 6 days at your Traditional Mexican Cooking School were the highlight of our trip. A truly remarkable experience.
We will never plan a visit to SMA without including you again. Thank you for sharing your time and talents with us. I know you will see us again.