Saveur Magazine
Saveur – The Mexico Issue
By Anna Stockwell and Elyse Inamine – August 24, 2012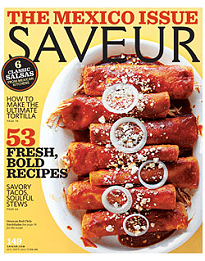 Plan your next trip to Mexico around a class at a cooking school, where expert local chefs teach students how to use authentic Mexican ingredients and techniques.
Marilau Mexican Ancestry Cooking School
Marilau Ricaud comes from a long line of professional cooks and bakers and is an expert not only in the regional specialties of her home state of Guanajuato, but in the cooking of Oaxaca, Puebla, and other parts of Mexico, as well. Renowned for her tamales in particular, she offers classes ranging from salsa making to a two-week intensive on Mexican stews.