SUGGESTED MENUS FOR VEGETARIANS
ONE CLASS ON SALSAS
SALSAS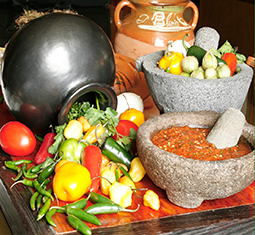 What the students learn here is fundamental to their education as an authentic Mexican cook.
As in many other countries, Mexican cuisine is based on sauces (salsas). There is a large variety of them and may change their name depending on the different ingredients or in what you´ll use it for. Salsas in Mexico are the basis of traditional meals; they are not dips or "pico de gallo" salsa type. These salsas are used to top poultry, fish and meat, including vegetables; that´s why I strongly recommend you to take this class prior to other courses. This is a fundamental class in which you will learn the basic techniques to work with fresh and dry chiles. We are going to prepare six basic salsas and we will include more than fifteen suggestions to use them in your kitchen on a daily basis.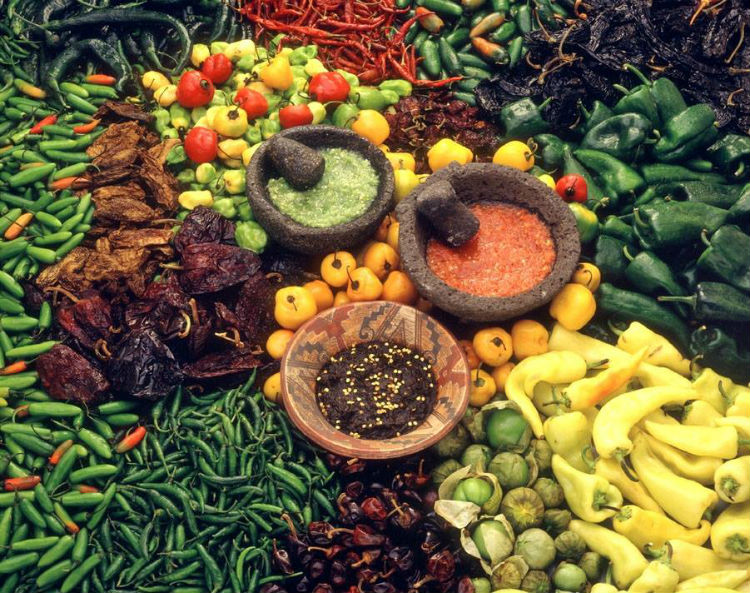 ONE CLASS WORKING WITH CORN
Long before the Spaniards arrived to Mexico, Mexicans used corn, this is a tradition that continues to be as strong as ever, and forms part of many dishes. You will learn to prepare the most popular "antojitos de comal", made with cooked or fried tortilla and may be thicker or have different shapes from the traditional round tortilla. These different corn dough tortilla shapes are topped with a wide variety of preparations, and also changes the way they are named, depending on the region they are from. This is a Very popular class; it's fun and there are astonishing variations in it; you learn to make tortillas, enchiladas, chilaquiles and sopes; plus salsa verde, salsa roja and salsa for enchiladas to use with the courses.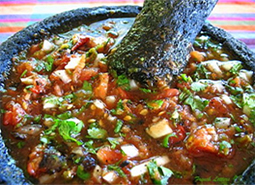 Caldo Tlalpeño: A soup prepared with tomatillos, cilantro, chile chipotle, vegetables.
Sopa de Avena: Soup prepared with oats, dry chiles, tomatoes, onion and garlic clove garnished with apple.
Sopa Tarasca: This is a wonderful soup from the state of Michoacán. It´s prepared with tomatoes, onion, garlic and cooked black beans, blended until puree, getting a very smooth soup. Garnished with: sour cream, manchego cheese and fried tortilla strips.
Sopa de Rajas de Chile Poblano: Soup prepared with tomatoes, onion, garlic, poblano chile strips and potatoes.
Sopa de Fideo Seca: Very Mexican soup. This soup is made with thin noodles, which are fried and then boiled in a tomato, onion and garlic puree until becomes very dry. It is garnished with chipotle, cheese, avocado stripes and sour cream.
Crema de Chayote: Smooth and creamy soup with a very delicate (Or refined) taste from one of our very natives vegetables, "chayote" (pear fruit). This soup is easy and fast to make!
Crema de Calabaza con Elote: A delicious and creamy soup prepared with zucchini and sweet corn.
Crema de Lentejas: Soup prepared with tomatoes, garlic, onion, cooked lentils that are blended until puree, (obtaining a very creamy and smooth texture without adding cream or milk) Adding carrots, cilantro and plantain. Delicious!!!!!
Sopa de Nopales (cactus pad): Soup made with tomatillos, onion, garlic, dry chiles pasilla, nopales and potatoes.
Sopa de Tortilla: Soup prepared with dry chiles, tomatoes, onion and garlic, garnished with tortillas, cheese, cream, avocado and chile pasilla.
NOTE ON RICES: The technique used to make rice in Mexico is very traditional and unique; there is no other cuisine that uses this technique. You will need to make 5 previous steps: rinsing, soaking for 20 minutes in warm water, drain, deep fry in vegetable oil, and drain. You will be amazed at how oil is almost completely recovered. And then continue cooking with several ingredients such as tomatoes, onion, garlic puree and vegetable broth to give flavor and color to the rice.
Arroz Rojo: Rice fried in vegetable oil, then cooked with onion, garlic and tomatoes puree. Carrots and peas can be added.
Arroz Verde: Rice, fried in vegetable oil, then cooked with chile poblano, cilantro, onion and garlic puree. Corn can be added.
Arroz Blanco a la Mexicana: Rice fried in vegetable oil and cooked in chicken broth, onion, garlic and lime.
NOTE ON NOPALES: In addition to corn and chiles, nopales (cactus pads) are part of our staple food. This is one of the most appreciated dishes by Mexicans. We prepare this vegetable in many different ways.
Ensalada de Nopales: This is probably the most traditional fresh salad in Mexico. Cooked nopales mixed with fresh tomatoes and onion, covered with vinaigrette and garnished with ground cheese and oregano.
Nopales Guizados: This is the most frequent way Mexicans eat nopales at home. Cooked nopales mixed with fried tomatoes, onion, garlic, bay leaf, marjoram, thyme and cilantro, seasoned with either chile serrano or canned chile chipotle adobado.
Nopales Navegantes con Huevo: The sauce is prepared with pasilla chile, onion, garlic and oregano, having a very light texture, almost as if nopales were floating in the sauce. Added scrambled eggs will absorb most of the sauce to deliver a very tasty dish.
Rajas de Chile Poblano con Crema: Chile poblano strips cooked with onion, Mexican sour cream and cheese. It is a tradition to eat rajas in "tacos", among many other ways to serve them.
Rajas de Chile Poblano guisadas: Chile poblano strips cooked with onion, and tomatoes. It is a tradition to eat rajas in "tacos", among many other ways to serve them.
Calabacitas a la Mexicana: Prepared with tomato, onion, zucchini, cilantro and chile serrano with a very Mexican touch.
Cazuela de Hongos a la Mexicana: Champignons (or a mixture of Mexican mushrooms from the season) sautéed with a generous amount of garlic, chile serrano seeds, cilantro and lime.
Enfrijoladas: Another way to enjoy Mexican black beans. For this dish, you start fraying a tortilla, then stuffed with Mexican "queso fresco" and topped with black beans and oregano sauce and cream.
Huevos a la Mexicana: A delicious combination of tomatoes. Onion and chile serrano in which you cook scrambled eggs.
Huevos ahogados: The secret of this very typical recipe is to poached eggs into a dry chilles guajillos and tomatoes sauce.
Tortitas de papa: Small patties prepared with mashed potatoes and "Mexican cotija or añejo " cheese, egg, black pepper and salt. Then fried and served with a very tasty cilantro dressing.
Tortitas de vegetales: Shredded onion, carrot, zucchini and apple, mixed with egg batter, fried and served with a very tasty "salsa verde" (green sauce).
Chile ancho rellenos de frijoles y queso: A dry chile named "chile ancho" is stuffed with mashed black beans and cheese topped with a very tasty tomato sauce, (The sauce is seasoned with thyme, marjoram, Bay leaf and cinnamon stick) baked, and served topped with cream.