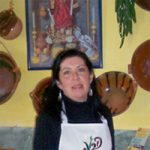 From my earliest years, I watched my mother, my aunts and grandparents in the kitchen, so I invite you to join me in tranquility to take our aprons and spoons, to use the very fresh ingredients of our Mexican Cuisine, and recreate together those delicious dishes that I learn from them, with love, tradition and fire.
Add to your culinary knowledge everything about "the best kept secrets" that you always wondered about Mexican cuisine: soups, Mexican sauces (salsas), adobos, pipianes, mole, Mexican rice, tamales, cochinita pibil, stuffed fresh and dry chiles, ensalda de nopal, tinga and many more… all of them authentic Mexican recipes passed down in my family for over 200 years. Please check the "menus" section for a full list of the recipes for my cooking classes.
"Nopales" salad class
We offer open custom cooking classes for short stay students or full professional intensive programs, please feel free to see our diplomados section.
Your cooking class can be scheduled from Monday to Friday, starting at 10:00 am.
A special schedule can be arranged for larger groups.
Saturday cooking classes can be arranged with a surcharge.
A minimum number of students apply for any class.